"Will they marry? No, I don't think so at all."
( Kei's father replied to the reporter of Bunshun released in May/2016 )
※"Bunshun" is a japanese famous magazine which has a good reputation about the high reliable scoop articles.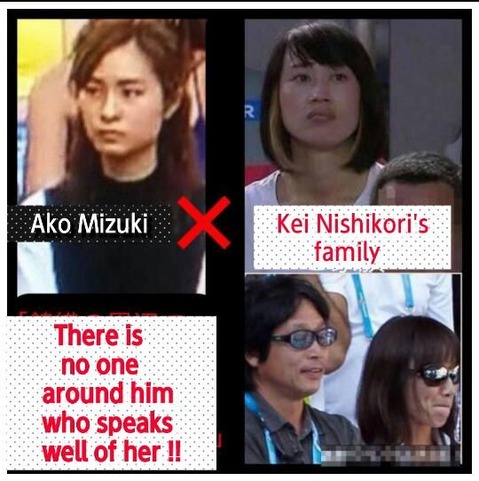 Nishikori's parents got along with his former girlfriend familiarly.
But it is said that discord between Kei's parents and Ako Mizuki has been a well-known fact among his people concerned since 2015 US Open.
( Nishikori's former girlfriend was a rhythmic gymnastics athlete, a member of Japan's National Team for BEIJING OLYMPIC. )
『 "I'm Kei's girlfriend!"
She said so wearing an impertinent dress, approached to make herself known to everybody and anybody, and attached her skin to them. 』
( At players party in 2015 US Open:extracts from "Bunshun" )
Nishikori's people concerned were disgusted with Mizuki's behavior and were feeling anxious about their future.
Not only her behavior, she has too many factors that make people frown.
『There is no one around him who speaks well of her.』
( An extract from "Bunshun" )
Although Ako Mizuki entered japanese showbiz through a private model for amateur photographers, she was totally unknown among ordinary people because she couldn't do conspicuous activity.
It was a gossip magazine writing about her scandal that such her existence was known to among ordinary people for the first time.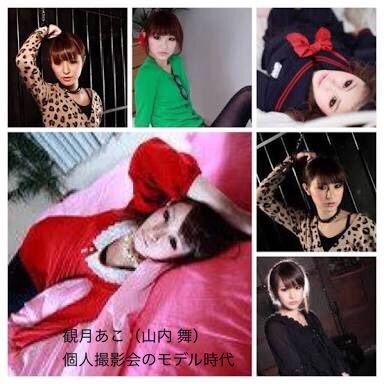 She changed the stage name and her face several times and joined in uncountable parties to make the connection with celebrities and increased her circle of acquaintances.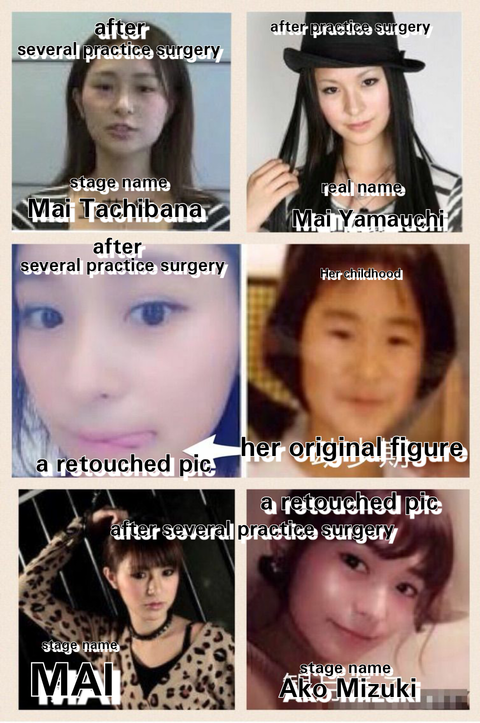 It is thought that Nishikori's family and people concerned were surprised at her relationships.
Ako Mizuki is too near to the underworld.

In her close friends and people concerned, there are several men having arrest careers, and a certain person having relationship with japanese mafia.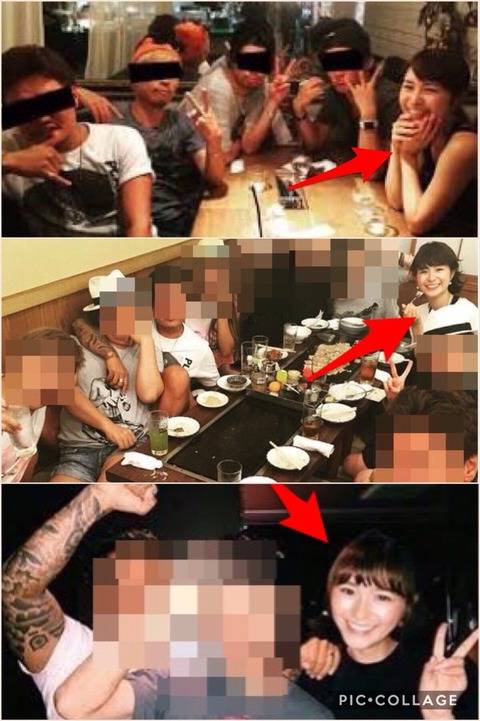 Furthermore, the existence of a psychic who Mizuki's whole family devote themselves to over many years, gives serious suffering to Nishikori's family and people concerned.
This psychic is a doubtful fortune-teller who holds exorcism
and spiritism sessions, and also a guru of the new religion.
The guru's name is "Aki Mizuki".
She gave a stage name "Ako Mizuki" to "Mai Yamauchi" .
Check the previous article for details, please.
【 The previous article;Kei Nishikori is in imminent danger!! Kei's girlfriend "Ako Mizuki" is going to drag him into a new religion like cult!? 】
http://tennisokkakenews.livedoor.biz/archives/299261.html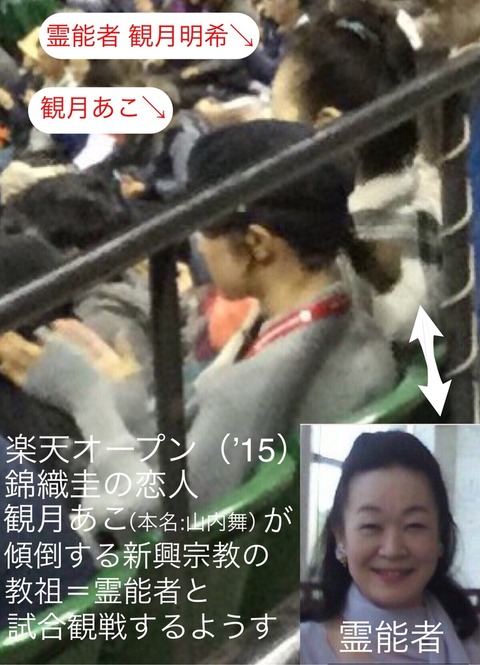 "Because!! I know they hate me so that I hate them!!"
Ako Mizuki said about Nishikori's parents as above without scruple.

In tournaments, she ignores them without even a glance.
Before she visits to Kei's house in Florida, she makes a schedule not to meet his parents. It seems that she is slighting his parents.
( Extracts from "Bunshun" )
This made us be at a loss for words.
She does not seem to think that herself has faults.
It has no wonder that Nishikori's parents cannot accept Ako Mizuki.
Kei's older sister completely refuses her, too.
( At Rakuten Japan Open in October/2016 )
Right before Nishikori's game began, his older sister who was sitting on a seat moved away hastily as soon as Mizuki appeared in the same area.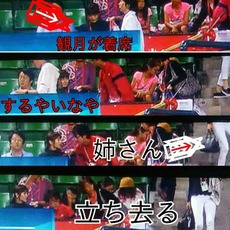 There was the even media that reported Nishikori's father had stopped watching Davis Cup at October/2016 in Japan, because he had noticed that Mizuki would come.

Ako Mizuki is rude to Nishikori's parents and puts a slight on them.




In general, if a woman wishes to marry her boyfriend, she would try to have a good relationship with his parents, and behave with respect.




However, there is no sign of that to her.

Because we know that the guru said gloatingly, "Nishikori is not stingy", we can easily image she smiling weirdly behind Ako Mizuki.




Therefore, it seems nothing but that Ako Mizuki is stuck on Kei Nishikori in order to increase the distance between he and his family.

スポンサーリンク